BUSINESS SPOTLIGHT: LES SCHWAB TIRES
---
Les Schwab Tires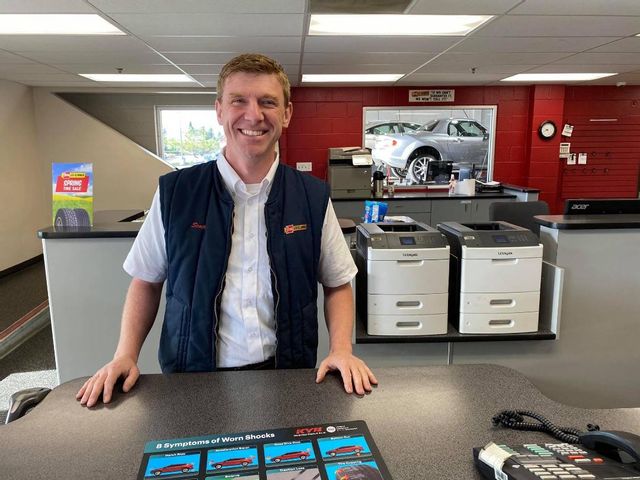 Orangevale Chamber of Commerce Business Spotlight — Les Schwab By: MaryAnne Povey
If you haven't had a chance to meet this newcomer to town, you definitely should! Whether you need tires, a flat fixed, an alignment or just want to pop in to say "hi" you'll be glad you did! New store Manager Scott Gleave of Les Schwab, 9465 Madison Avenue, has an infectious smile (no pun intended!) and personality to match! 
Scott and his family came to Orangevale about a year ago and quickly established roots into what he considers the most "amazing" Orangevale community! During his 14 years with the company, Scott managed operations at four locations, the last being Wenatchee, Washington, a town rich in agriculture. Coming to Orangevale was serendipitous being rich in community and agricultural roots too!
It didn't take long for Scott to settle in and embrace his new job and the community. He quickly plugged in by joining the Orangevale Chamber of Commerce and started supporting many local non-profit organizations through generous sponsorships and donations. He's a big believer in giving back to the community and has a long history for doing it.
Scott fondly recalled the time when a young man came back to thank him for sponsoring his high school wrestling team. It was that support from Les Schwab that helped save the school's wrestling program and enabled the student to go on to a D1 college. 
"If you support them, they will support you," Scott said when asked about his giving philosophy. "It's good to be part of a community that's so united and actively working together."
That's just some of the positive culture out of the Les Schwab playbook which is a "customer first" driven organization. Besides that, the company believes in taking great care of its employees, so they feel supported in "going the extra mile" to help customers too. "Schwabism" is the term employees strive to achieve in having integrity and helping others whenever possible. It's that foundation that has made the company so successful.
The company has stores in 10 states nationwide and is proud to be recognized with the "Highest Customer Satisfaction Award" from J.D. Power and Associates for their aftermarket general maintenance and tire replacement. 
In case you were wondering what services you can expect besides new tires for vehicles they also sell them for boats, RVs, commercial vehicles and agriculture equipment.  Les Schwab offers free pre-trip safety checks for brakes, steering wheel, alignment, free rotation and flat tire fixes to name a few of their many services.
In response to the current COVID-19 crisis, they are offering emergency service to anyone worried about coming in for service. "We can pick up, and deliver and beyond, that would be happy to assist anyone who needs additional help," said Scott.
"We want our customers to feel secure and safe about their vehicle and want the community to know that the doors are still open and our staff is here to serve you," he added. The store is currently open Monday – Friday, 8 am – 6 pm and Saturday, 8 am – 5 pm. 
"These are tough times and we want to help take out the stress and anxiety out of life," said Scott, "If we can help in any way, we want to do just that."
To contact the store call 916-990-0554 or email Scott at [email protected]