Business Spotlight: Divine Savior
---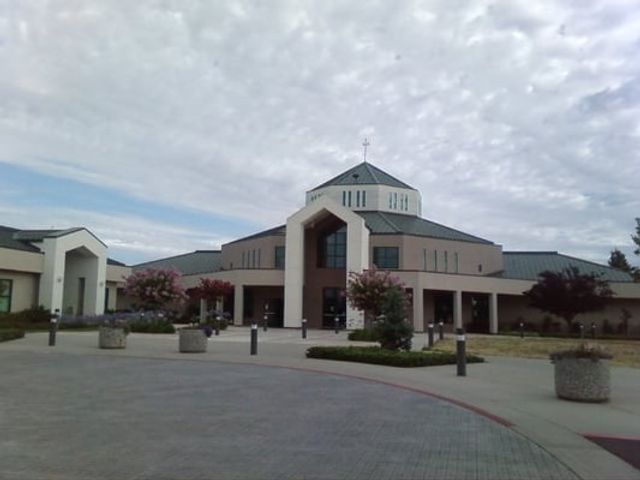 The holidays and giving go hand in hand as a tradition deeply engrained in the hearts of many. At Divine Savior Catholic Church, the business of giving and helping others is not just a holiday tradition, but a year-round practice. Established by the Sacramento Diocese in 1987, Divine Savior parishioners initially gathered at the local bingo hall and as the congregation grew, so did its ministries. Eventually, the church established its permanent home located in the heart of Orangevale at 9079 Greenback Lane. The grounds include a large sanctuary, office buildings, classrooms for youth ministries and a beautiful large scale multi-purpose room for meetings and other special community events.
To date, the thriving parish has over 1300 registered families, a full staff, a host of committees and volunteers serving the needs of both their faith community and beyond.
The Christmas basket ministry is one such ministry providing Christmas for families in need over the past 19 years. Flyers are distributed in early October to local schools seeking qualified families. Once applications are in and approved, the parish staff and committees get to work in a big way.
"We've got this down to a science," said Caroline Easton, Pastoral Care Minister. "Last year we provided Christmas baskets for over 85 families, this year it's closer to 80. It changes every year," she added.
Families receive gifts for the children, Christmas dinner and additional food for the holiday season as well as some essential household items for the adults. All is done with great care and donated anonymously.
"You never know what these people are going through," reflected Caroline. "It's touching seeing them leave with tears in their eyes."
Another on-going and "on-growing" ministry is the weekly free dinner program provided on Thursday nights at Divine Savior. Anyone in need of a hot, free meal is invited. On average 75 to 115 plates are served with "comfort, stick to your ribs type food". It's also a great opportunity to socialize with others. All are welcome.
For more information about Divine Savior Catholic Church and its many ministries, call (916) 989-7400 or go to www.divinesavior.com. The business office is open Monday – Friday, 8 am – 4 pm.