BUSINESS SPOTLIGHT: MERRILL BOOKKEEPING & INCOME TAX SERVICE
---
MERRILL BOOKKEEPING & INCOME TAX SERVICE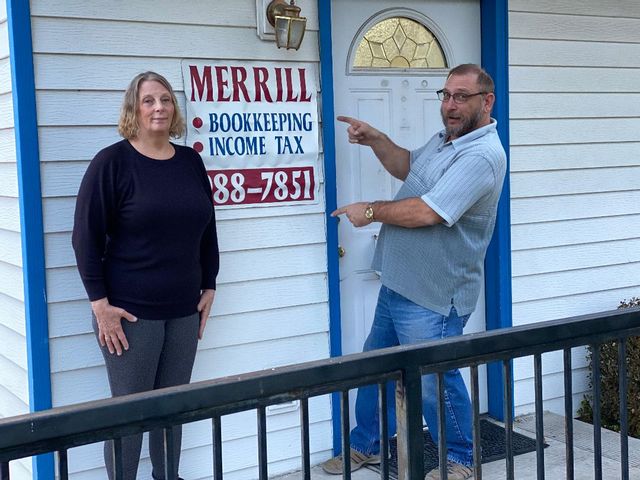 By MaryAnne Povey
Death and taxes — the two things they say you can't escape. The good news is that one of them you only do once… and as for taxes, the key to success is finding the right person to help you through it!
Luckily for many individuals and businesses in Orangevale, Merrill Bookkeeping and Income Tax Service, a long time, family owned business, is just that — a trusted resource to handle everything from basic bookkeeping and accounting to the most complex tax return filings.
"My dad's business philosophy was to treat your client right, make them happy and they'll always come back," reflected Monte Merrill, owner and son of the late Raymond Merrill, who passed away last year in July.
Raymond launched the business after getting laid off from Aerojet back in the early 70's. A friend who was looking for someone to take over his business, groomed Raymond to do just that, and in 1972, he opened up his first home based office on Oak Avenue. From there he moved to a commercial office space in town, and then eventually moved back to his final and current home/business location at 8821 Central Avenue.
"My dad asked me to come give him a hand with remodeling the house so it would include a business office," said Merrill, "I was doing all types of labor jobs, including working at Coca Cola and then got laid off so the timing was right."
Monte can't remember why, but he always thought, "I'm gonna own that business someday" and as fate would have it, in 1996 his dad invited him to "come on over" and that's exactly what he did!
"I learned everything from my dad who was a tough teacher," said Monte, "He would proof my work, shake his head and say "nope" this isn't right. Back then, everything was done manually, no computers, so you can imagine there was lots of erasing!"
Monte grew up attending Orangevale schools including Oakview, Pasteur and Casa Roble High School. He holds the community traditions of Pow Wow Days, and Pony Ball dear to his heart most especially since his dad founded Pony Ball for Orangevale back in 1975.
Monte also has a passion for softball and has been involved in forming league organizations in Fair Oaks, Orangevale and Sacramento. "There was a time when I played up to six days a week," Monte shared, "It was a positive experience for me in many ways."
Over the years the family has gone through many ups and downs including suffering the loss of several family members. With the loving support of the community, the business has continued to thrive and has been voted "Best of Orangevale/Tax Service" for two years and counting.
When asked what he loves most about Orangevale, Monte said, "the mom and pop businesses and how we all support each other. Unfortunately, some of that has gone away, with big business coming to town, but it's good to see new small businesses opening and doing well in our community."
Merrill Bookkeeping and Income Tax Service is proud that ninety percent of their clients are from Orangevale and that their rates are approximately 35 percent less than big chain tax preparers.
Monte welcomes new clients and urges you to call his longtime office assistant, Cindy, aka the "boss lady" for an appointment or to answer any questions you might have. They can be reached at, 916-988-7851, Monday through Friday or go to [email protected] for more information.