Business Spotlight - Pappas Pools
---
Pappas Pools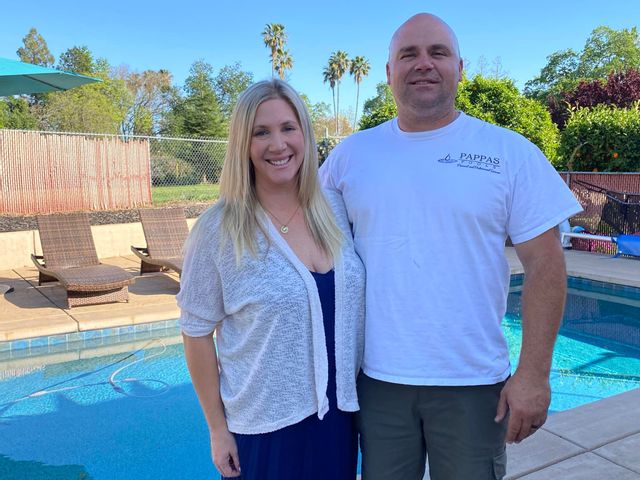 By: MaryAnne Povey

With summer on the horizon, if you own a pool, you'll want to make sure it's sparkling clean and ready to use! If you dread the time and effort it takes to get your pool "summer ready" then you might want to consider hiring an expert to handle it! Having a professional maintain your pool will actually save you money in the long run and keep your pool and equipment running longer, according to Josh Pappas, owner of Pappas Pools in Orangevale.
You could say Josh and his wife Megan are making a "big splash" since launching their family owned business in 2020.  They started with a route of only two pools, one of those being a family member and now handle over 260 pools in the area. They are becoming the "go to" service provider for trusted pool maintenance in Orangevale and in surrounding communities  and was voted Orangevale's Best Pool Service in 2021.
Josh is no stranger to pool maintenance, with over 18 years of experience in the pool industry, he loves what he does.
"I got into the biz on a whim," said Josh, "I was working for a company doing gutter and chimney cleaning but that work was slow during the summer so they started cleaning pools too. The company only had one guy cleaning pools so that's where I cut my teeth and found a niche with servicing pools."
It wasn't too long after that Josh applied with an established pool service company and once he got hired "he never looked back".
It was there that Josh started learning the basics of water chemistry, caring for equipment, and plaster maintenance. It wasn't long before he added pump, filter and solar repairs. In the end there wasn't much Josh couldn't fix. He also took specialized training courses and made lots of great connections along the way.
When the thought of running his own business popped into his head, he shared it with another pool service guy, who encouraged and guided Josh to step out on his own, even offering to sell him his route, because he knew Josh and his excellent reputation. But the timing was not quite right, so Josh stuck it out and got promoted with the company he'd been with since 2007, taking on a management position and handling training and teaching everything he knew to the new guys. Josh became invaluable as the "go to" guy! 
After the promise of a partnership fell through, he took it as a sign to finally do his own thing. Within a short time, Josh and Megan got to work getting the licenses needed, hired an accountant, got incorporated and they were off and running right in the middle of 2020. You can say things happen for a reason!
"In the first three to six months we set a goal of 75 customers which we got," said Josh, "Then 115 for our first year, and now two years later we service 260 customers! We've hired two employees, added additional trucks, equipment, and an office."
Going into business for oneself has its risks but even more so during the middle of a pandemic. Luckily, Josh's services were deemed "essential" so he was able to leave his old job and pursue his dream of building his own business.
Customer service is one of Josh's core values and is probably why he has such a good reputation. One neighbor/customer says he is "very service oriented". His wife Megan will tell you that people trust him because "he won't sell someone something they don't need. He's very good about troubleshooting and will tell someone what they need, what they don't and help them make informed decisions."
For questions about pool service, pool equipment repairs and/or other pool related inquiries, call Pappas Pools at 916.220.7799. They'd be more than happy to come out and help you with your pool service needs.