BUSINESS SPOTLIGHT: AMERICAN RIVER URGENT CARE
---
AMERICAN RIVER URGENT CARE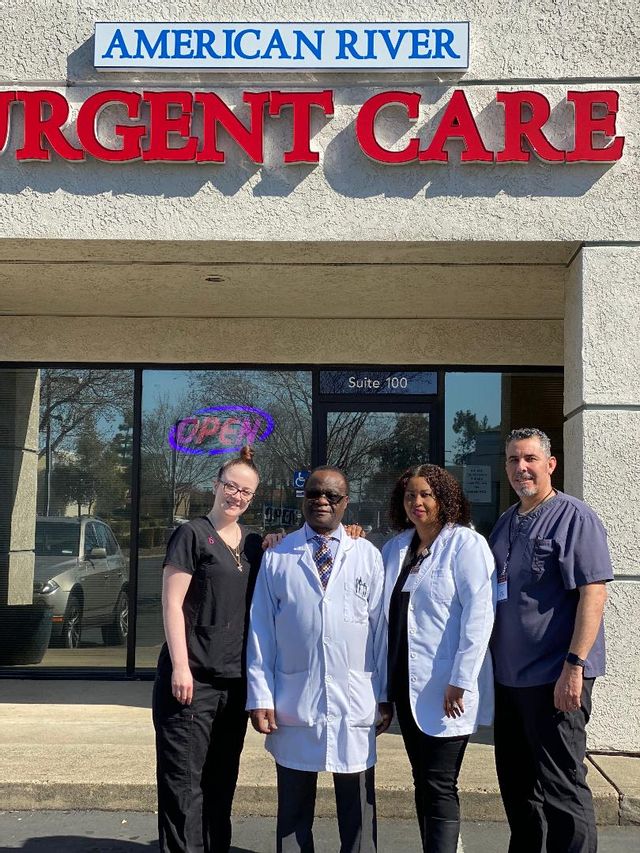 Orangevale Chamber of Commerce Business Spotlight: American River Urgent Care
By: MaryAnne Povey
Does this sound familiar? You are getting ready to head out of town for vacation and inevitably one of the kids is on the verge of a blaring ear infection. There's no time for a regular doctor appointment. What do you do? You could drag yourself and your poor kid to the emergency room and wait forever or…you can get treatment within an hour and be on your way!
Thanks to the services of American River Urgent Care, there is a convenient option to the dreaded emergency room visit! American River Urgent Care, located at 9490 Madison Ave, Suite 100, Orangevale, is ready to provide prompt care for your non-urgent medical needs, seven days a week from 9:00 am – 7:00 pm.
The medical staff at American River Urgent Care includes: Andrew Nangalama, MD, an award-winning provider of family medicine and urgent care services with nearly two decades of medical experience. Dr. Nangalama abides by the philosophy that high-quality medical care should be "compassionate, convenient, and affordable".
Dr. Nangalama earned both a medical degree and a doctoral degree at the University of California-Davis, graduating with distinction. He relocated to Texas for an internship in family medicine, before returning to Northern California. Dr. Nangalama completed a three-year residency in family medicine at Dignity Health Methodist Hospital of Sacramento, an affiliate of UC Davis.
Ayan Mohamud, Physicians Assistant, is a foreign medical graduate doctor with a Medical degree from Verona, Italy, who went back to school when she came to the United States. Ayan graduated from UC Davis with a Master of Public Health and PA program in 2011. Ayan has experience with primary care and women's health, and has worked at Urgent Care and Emergency medicine for the past seven years.
Andrew and Ayan are long time family friends who reconnected at the VA Hospital where Ayan was going through her Physician's Assistant training. Both have been serving patients of all ages with various medical conditions. The list of non-emergency services they offer is extensive, covering everything from cold and flu symptoms, to acute minor injuries like sprains and fractures. With a digital x-ray machine and in-house laboratory, they can expedite services for all types of conditions and get treatment underway quickly.
You may be thinking, "This sounds great, but how much does it cost?" The good news is they accept most major insurances including Anthem, Blue Shield, Cigna, United Health Care, Medicare, Tricare and VA which no longer requires authorization for urgent care visit. They also work with the managed care programs, and for those without insurance, they offer affordable payment plans too.
"We pride ourselves in offering affordable services to all our patients," said Dr. Nangalama, "One of the ways we like to give back to the community is by providing low-cost sports physicals to our local high schools making it convenient for student athletes."
Besides sports teams, the medical team regularly does annual physicals for individuals, businesses and other groups along with other common procedures like urine and drug testing, and pre-employment screenings too. In the cosmetic services category they offer the latest technology in "warm sculpting", a non-invasive procedure that removes stubborn fat.
If you really want to see how well they serve their patients, go to www.americanriverurgentcare.com and check out their many five star reviews. You can also call them at 916.354.5089 and their staff would be happy to answer any of your questions too.